Simple, User-Friendly, and Efficient Chemical Delivery System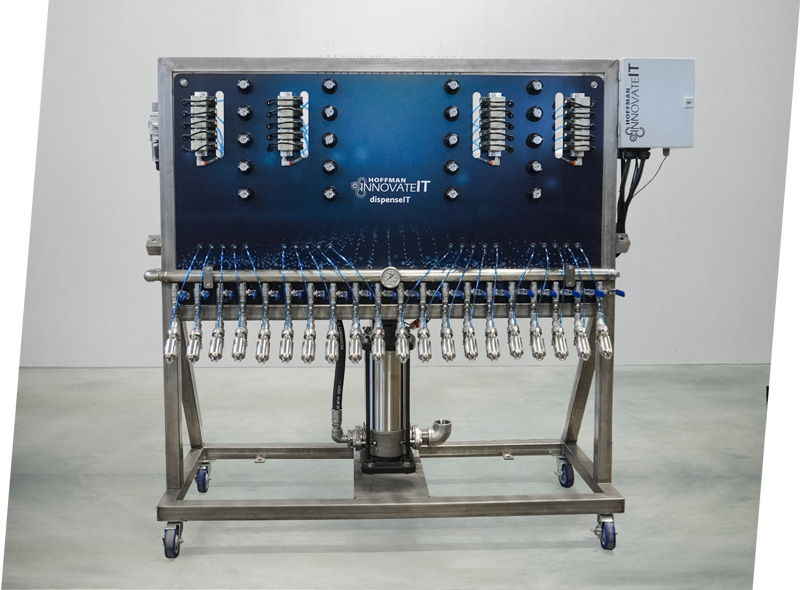 Constructed from stainless steel, the unit can handle just about anything your car wash throws at it
The self-contained design allows you to save space and declutter your backroom
The Grundfos VFD pump increases efficiency and pump life while keeping electrical costs low
Dema Rocket Injectors provide dilution rates up to 700:1, increasing chemical flexibility control and eliminating waste
Customize your unit with a 15- or 20-function chemical delivery configuration based on your needs
All innovateIT products are designed, tested, manufactured, and shipped from our headquarters in Albany, NY
The dispenseIT is an operator's dream. The solutions we've used in the past lacked consistency and functionality. We no longer need to constantly make adjustments, change tips, or adjust air. With the dispenseIT it's set-it-and-forget-it.
Flow pressure is a constant battle in the car wash. What the dispenseIT brings to the table is a constant and consistent flow pressure. So as an operator, you're now getting consistent flow, consistent mixing, and consistent dispersion of your chemicals.
With the dispenseIT, innovateIT has created something unique that is also very easy to use, understand, and maintain...We love it because of its reliability and its ability to maximize the efficiency of the chemical.
Pump Output (GPM)
*based on pump selection

Solution Output (Flow Rates)

Power Requirements (Pump)
*dependent on pump and voltage selections

208VAC/3PH/17A FLA
480VAC/3PH/11A FLA

Power Requirements (Controls)

Water Connections
*based on nozzle selection

2" FNPT Municipal supply
1/2" – 3/4" Discharge per function

Dimensions
*varies based on 10, 15, or 20-function unit

40-70" w x 64.5" h x 23" d
WANT TO LEARN MORE? DOWNLOAD THE PRODUCT FLYER