Installation #
Placement of Equipment #
Place equipment in the equipment room where the installation will commence

If possible, have the unit away from areas where the pump could take a direct spray from liquids.

Floor Mount dispenseIT: Turn the swivel casters so the wheels point forward and lock in place to ensure maximum stability (fig. 1.1-1.2)

Safety chain is not required

Wall Mount dispenseIT: Place the pump on the floor to the right of the unit.

Be sure to install a stainless steel guard around the pump's base to avoid damage by barrels, barrel carts, etc.
Recommended height is at least 4', measured from the bottom of the frame to the floor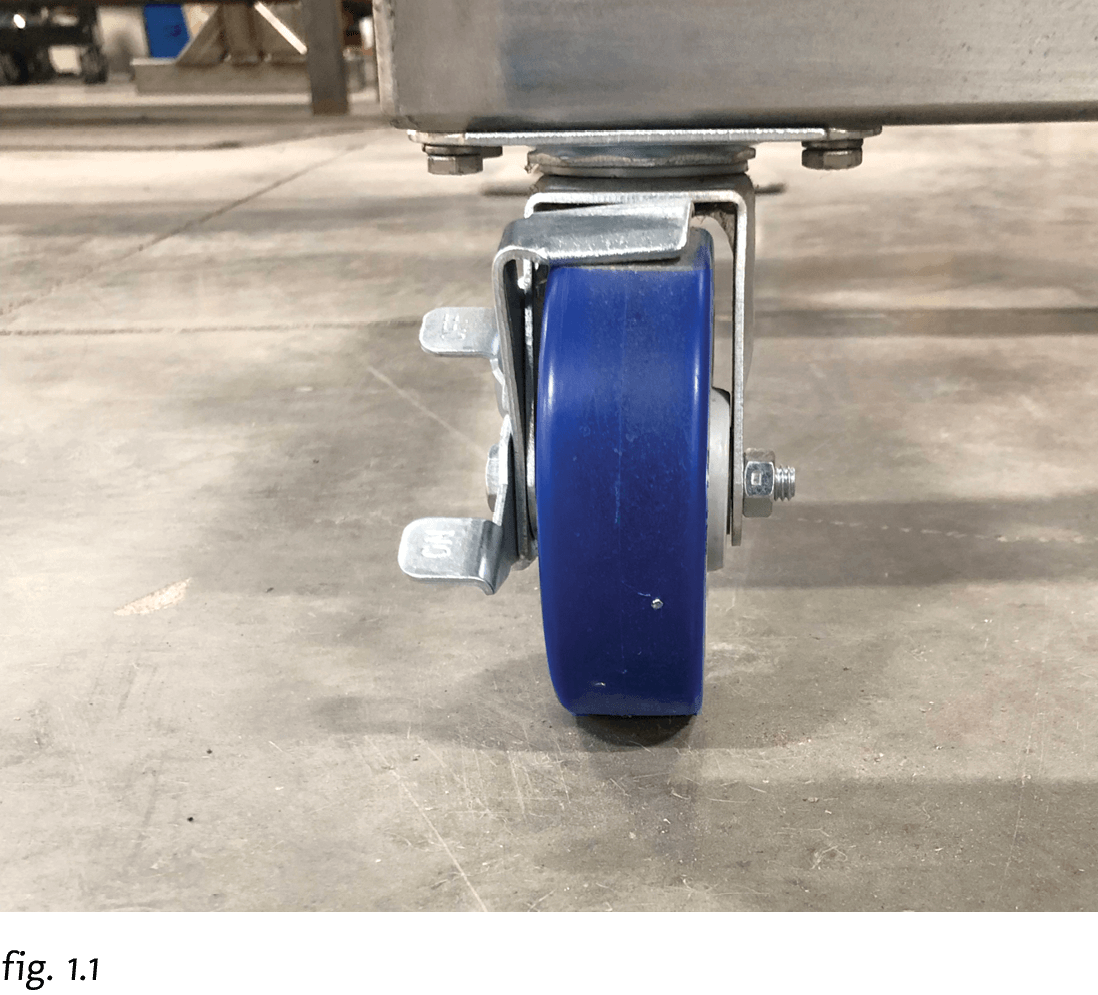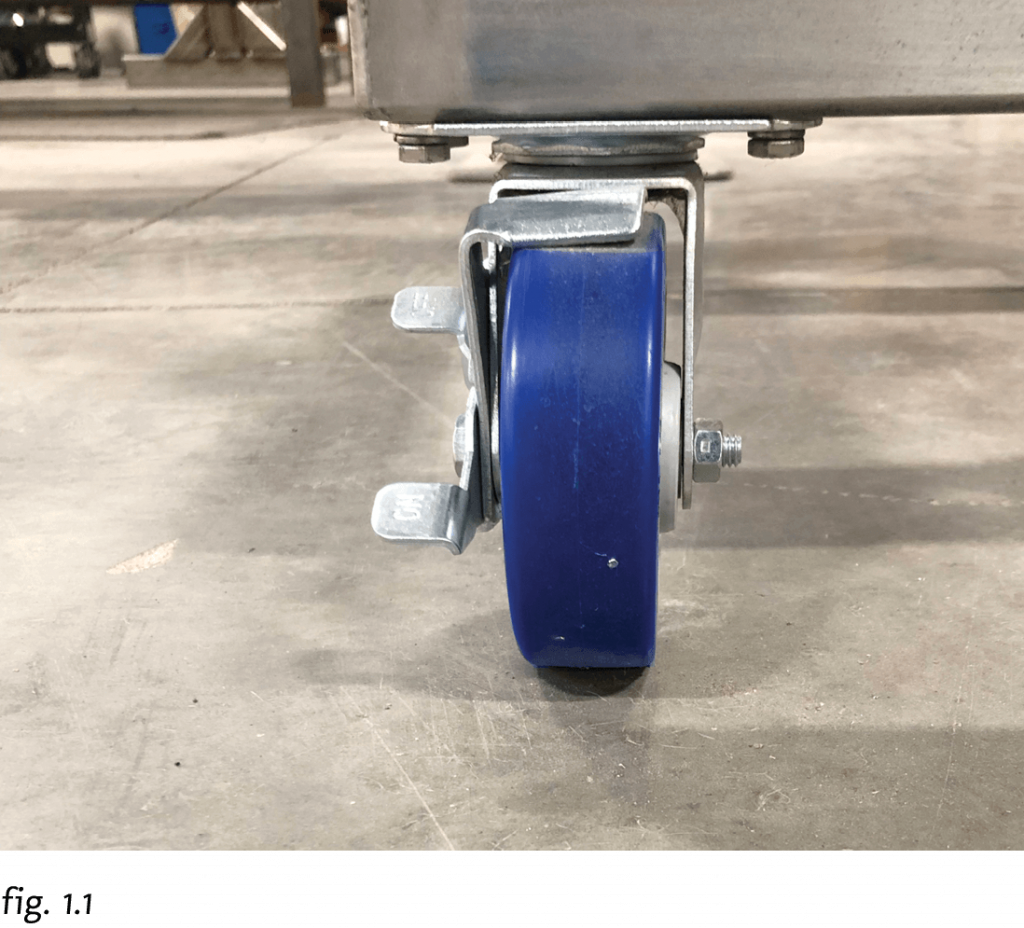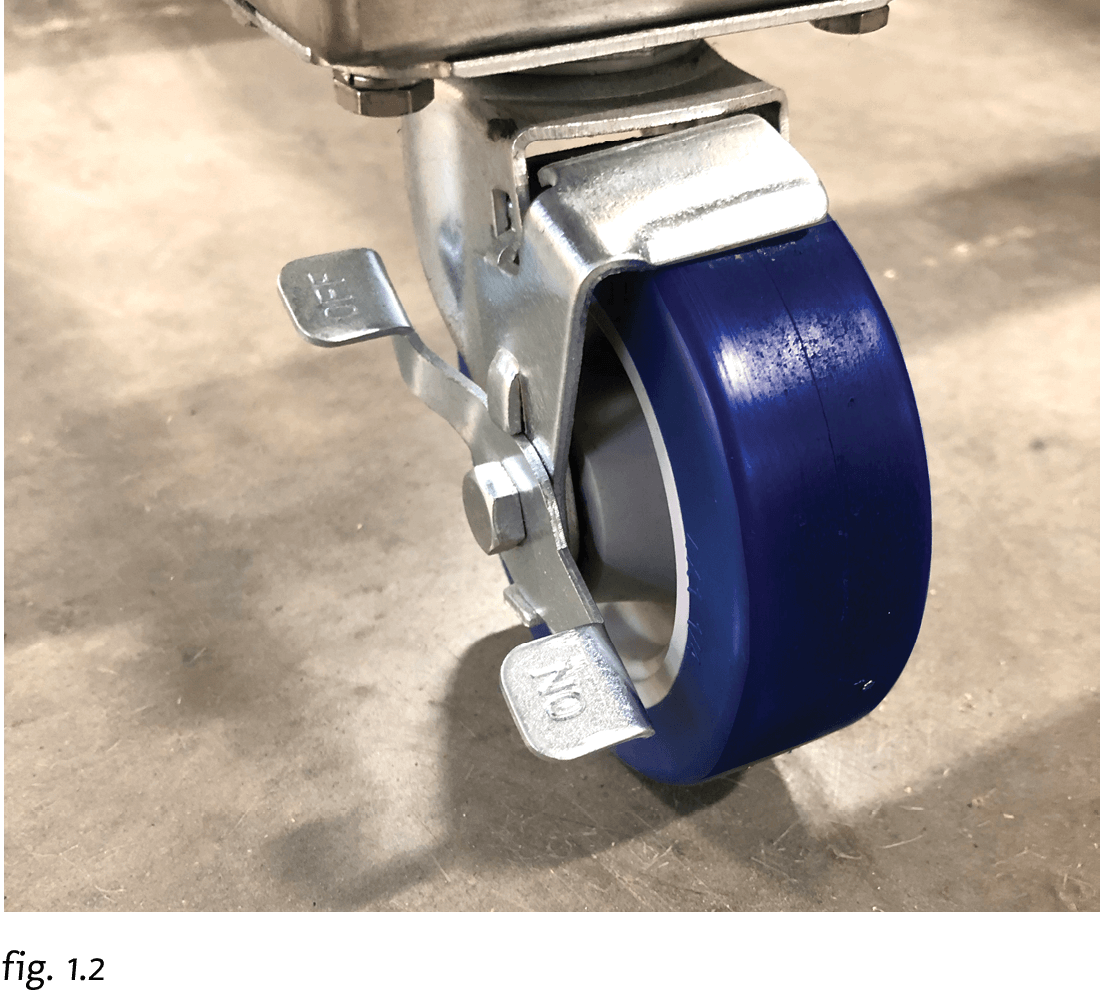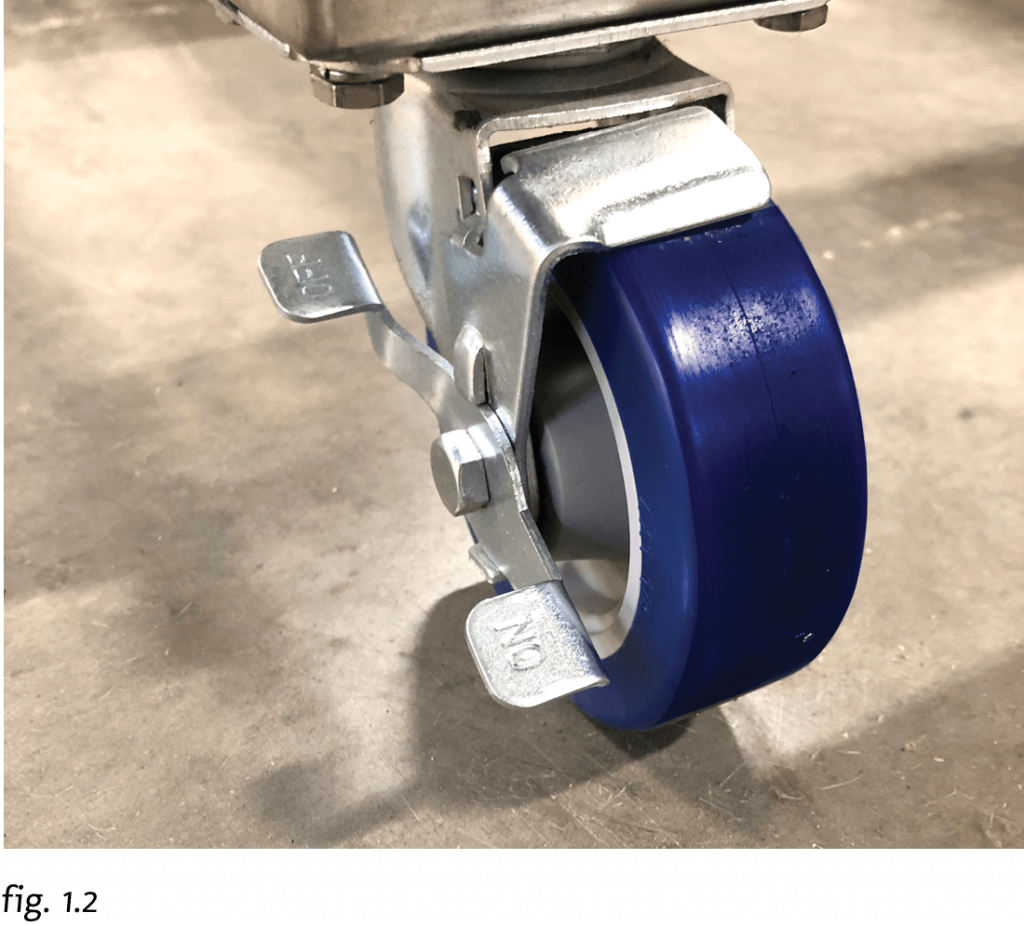 Install Water Line #
Install water feed line to the inlet side of the pump (fig. 2.1-2.2)
Remove the mounting flange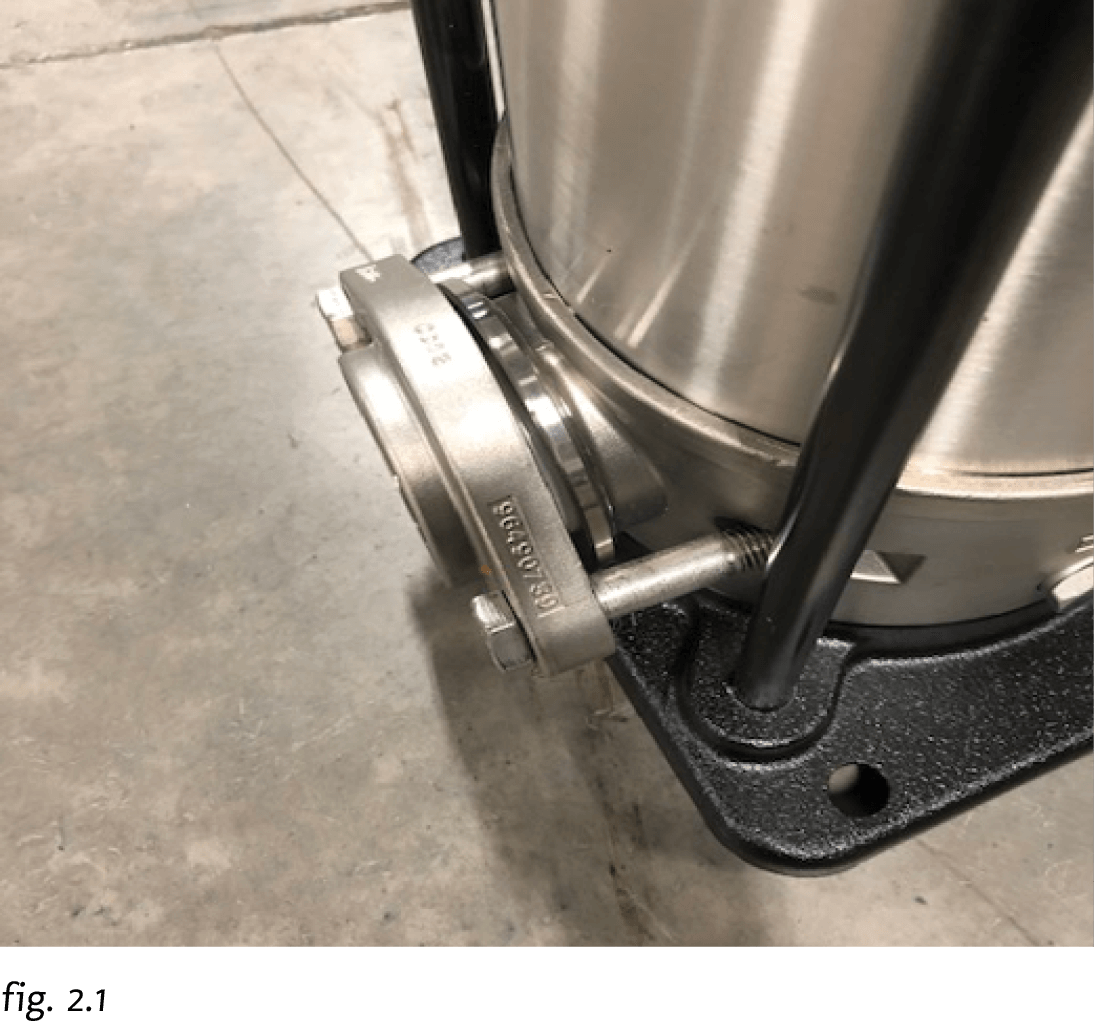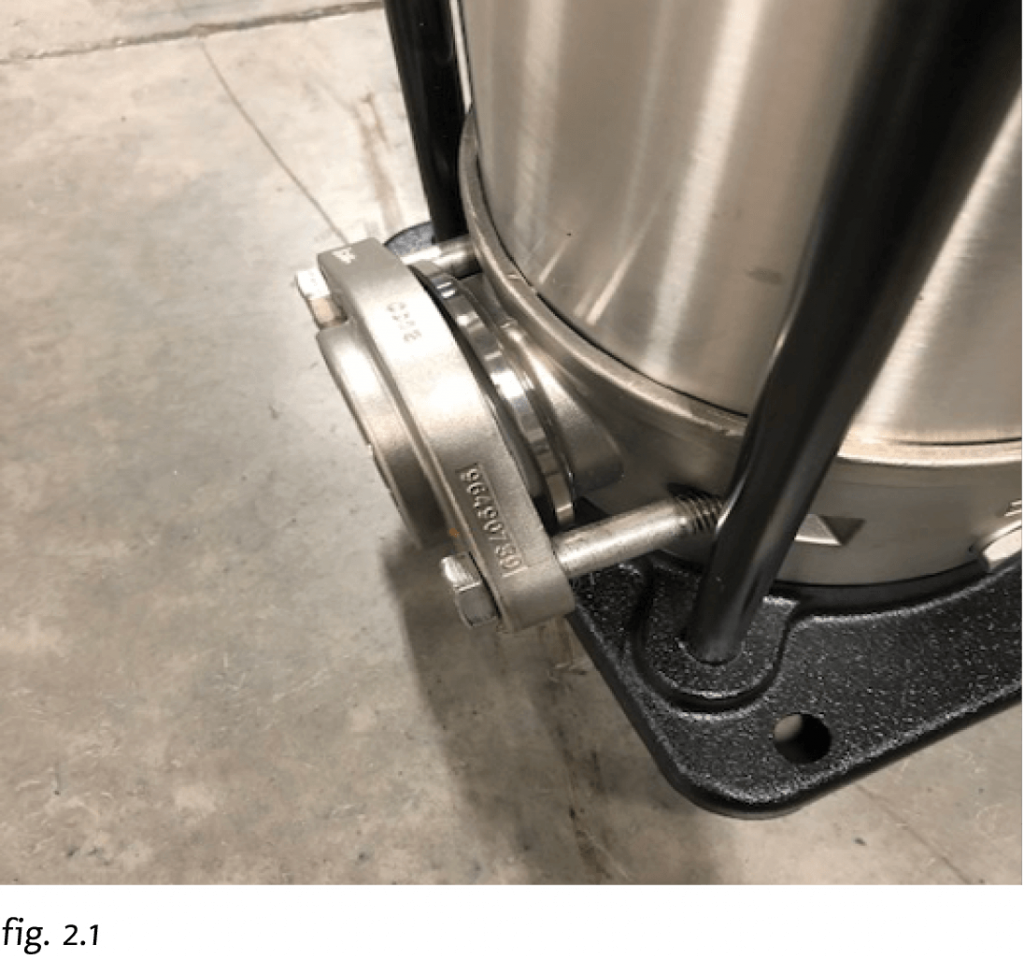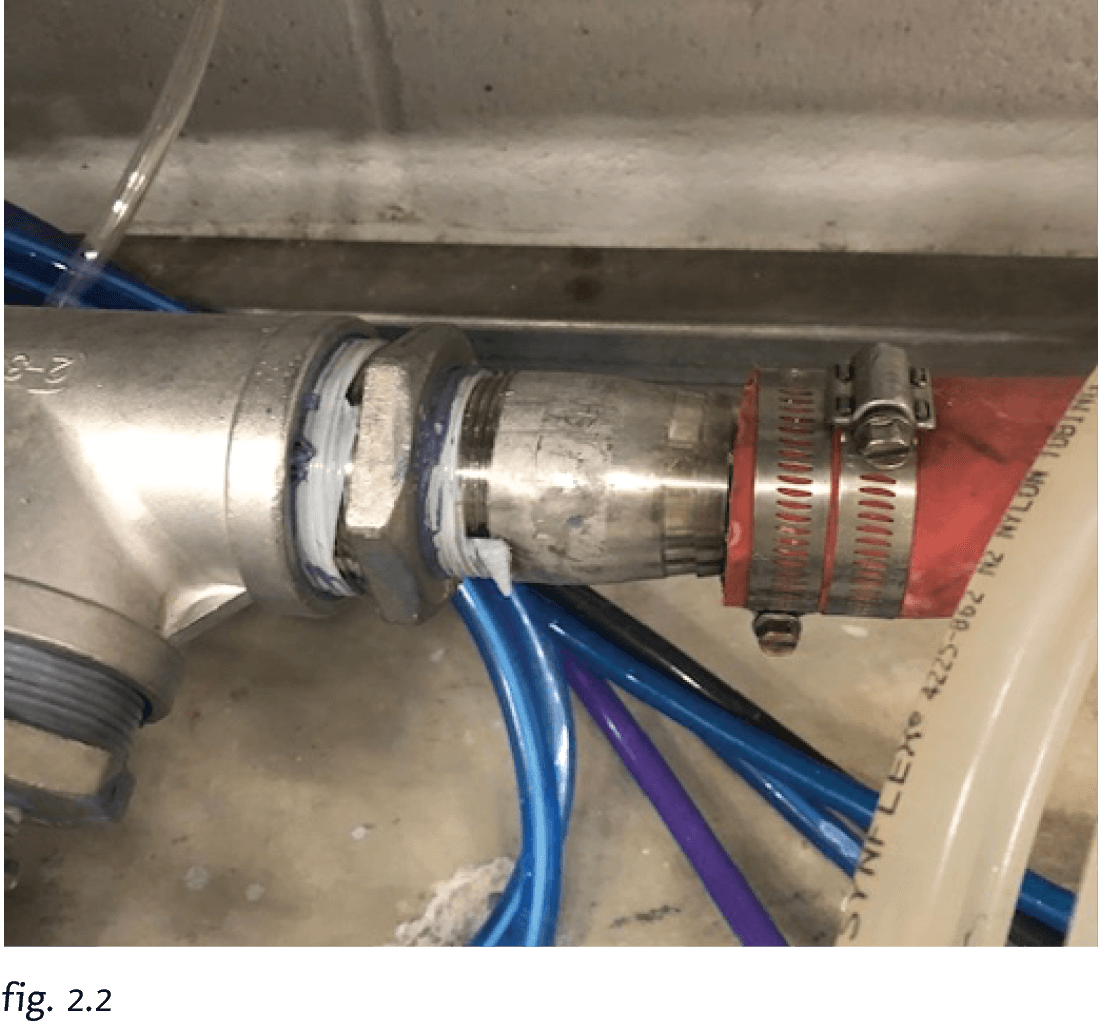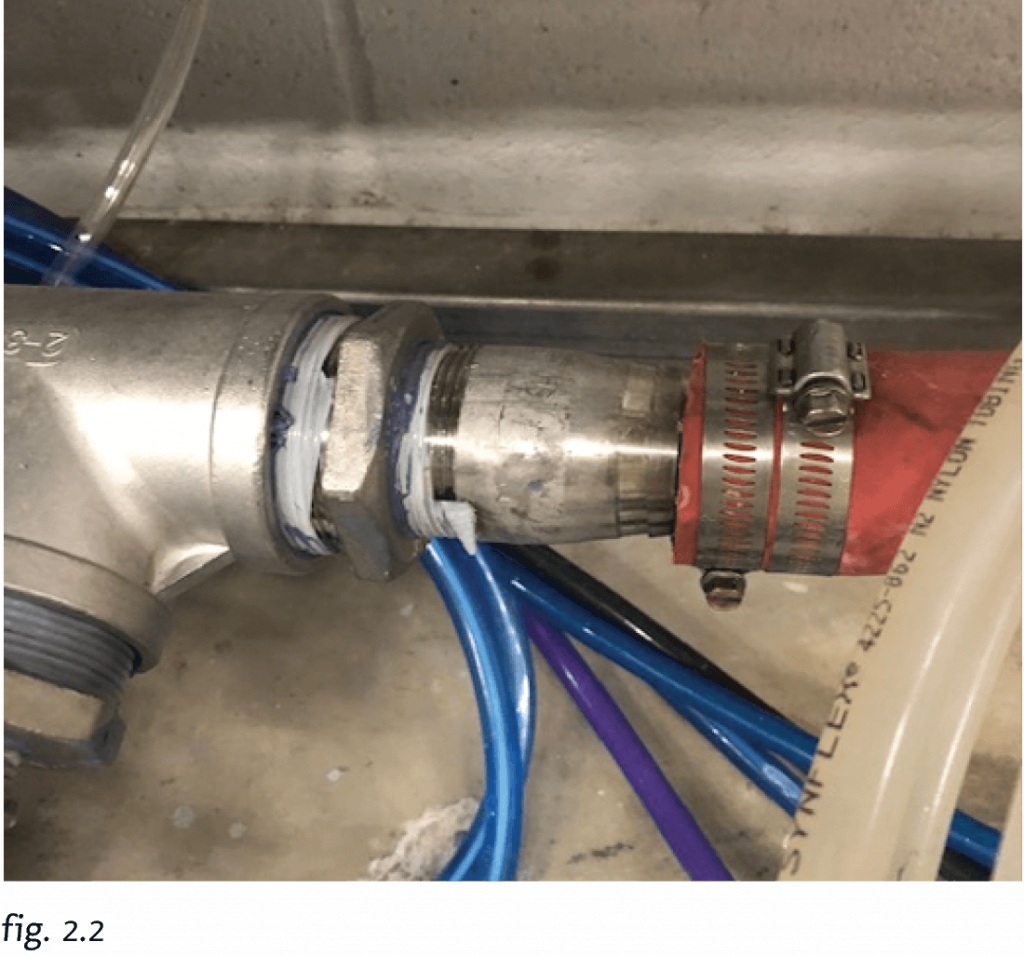 Confirm Pump Performance – Pump Priming #
Pay attention to the direction of the vent hole during liquid filling and venting. Make sure that the escaping liquid does not cause damage to the motor or other components.
If the pump runs dry, the pump bearings and the shaft seal may be damaged.
For additional information, refer to the information in the Grundfos instruction manual.
To begin priming, close the outlet isolation valve on the discharge side of the pump and remove the priming plug (fig.3)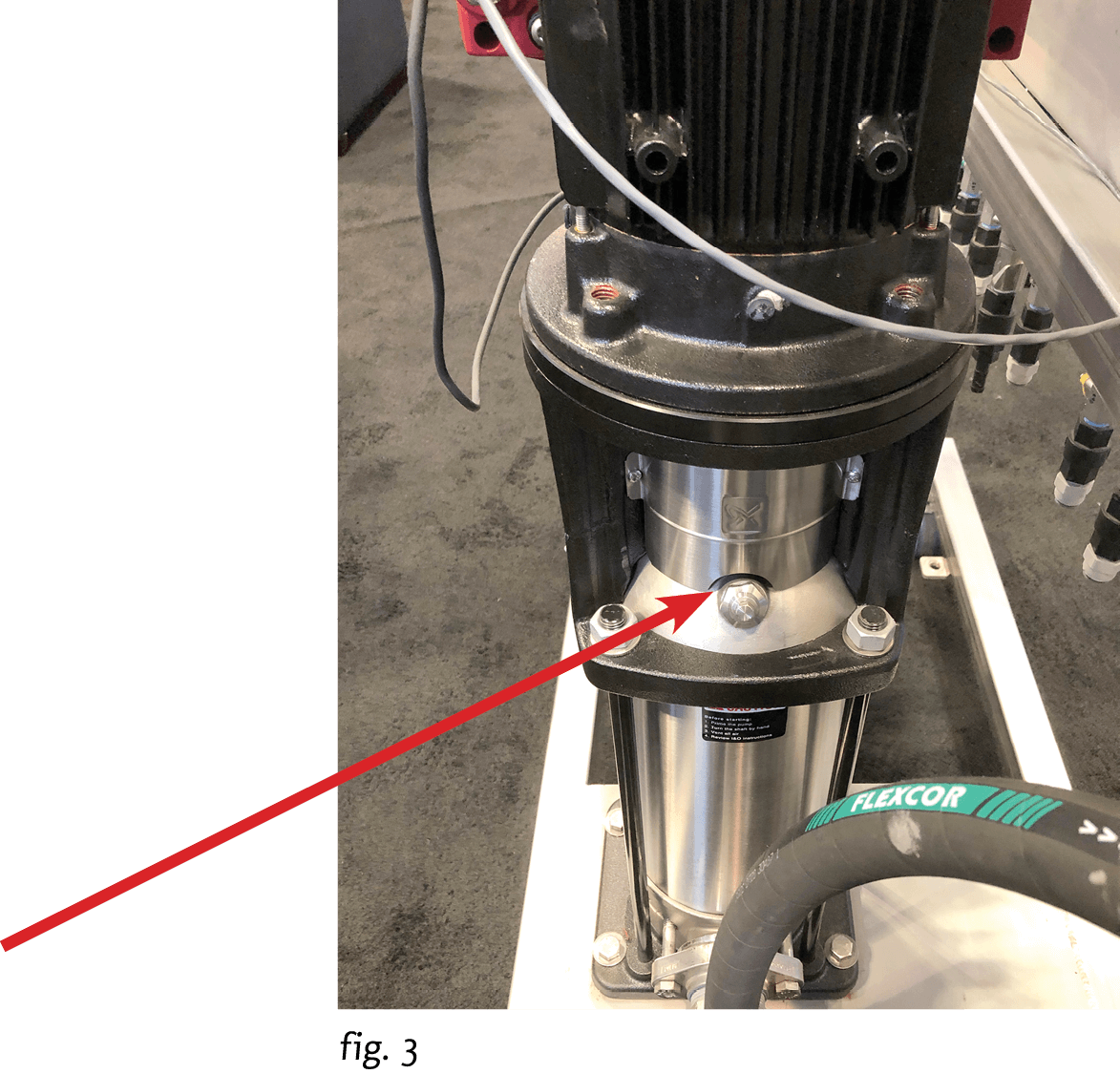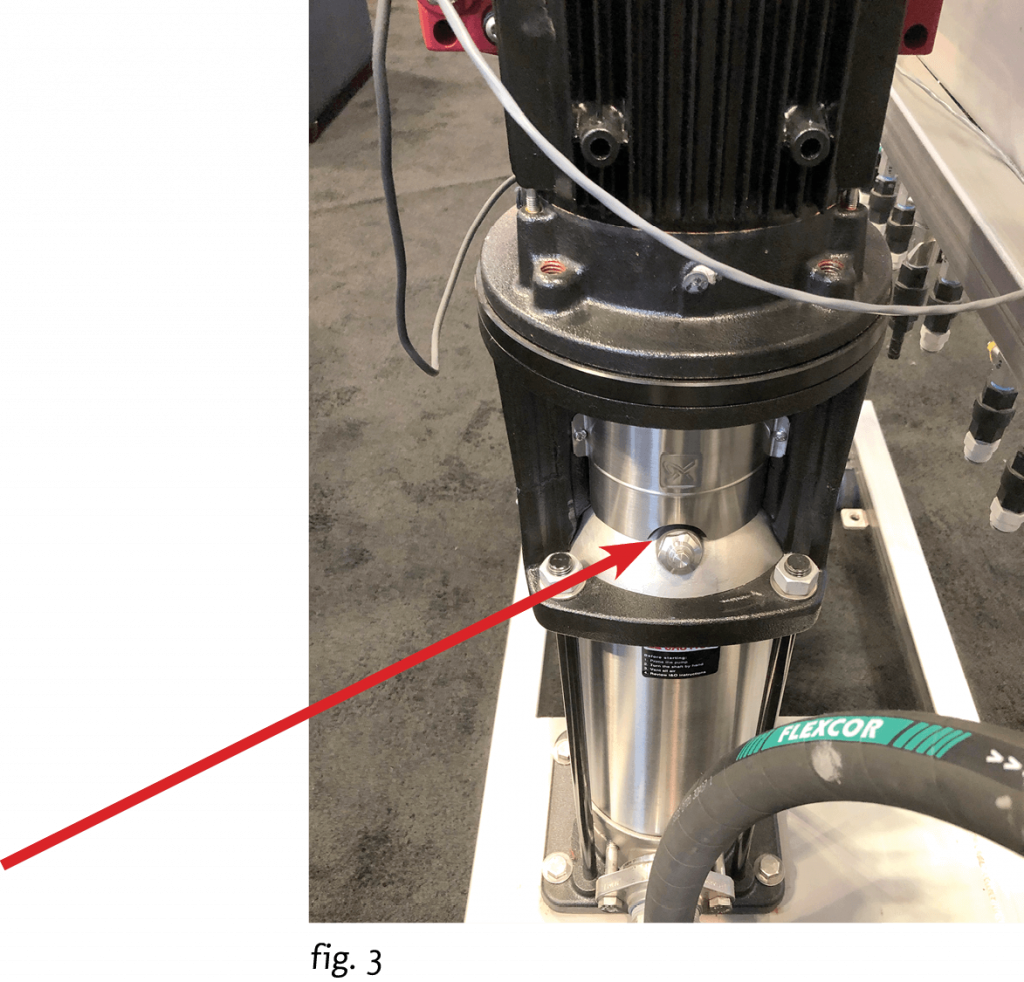 Open the vent valve
Open water supply to the inlet of the pump

Once water starts coming out of the vent valve, start the pump
Keep the isolation valve on the discharge side of the pump closed

Let the pump run for 2 minutes, spraying water out of the vent valve

Have a bucket ready to collect the sprayed water

After 2 minutes of running, shut off the vent valve. Then turn the pump off.

Do not over tighten the vent valve

Slowly open the isolation valve on the discharge side of the pump

Pump is now primed
The above steps should be repeated any time the pump may have been drained or lost its water supply
Install Air Line Feed #
Install main airline feed to inlet side of air regulator (fig. 5). Refer to page 5 for specifications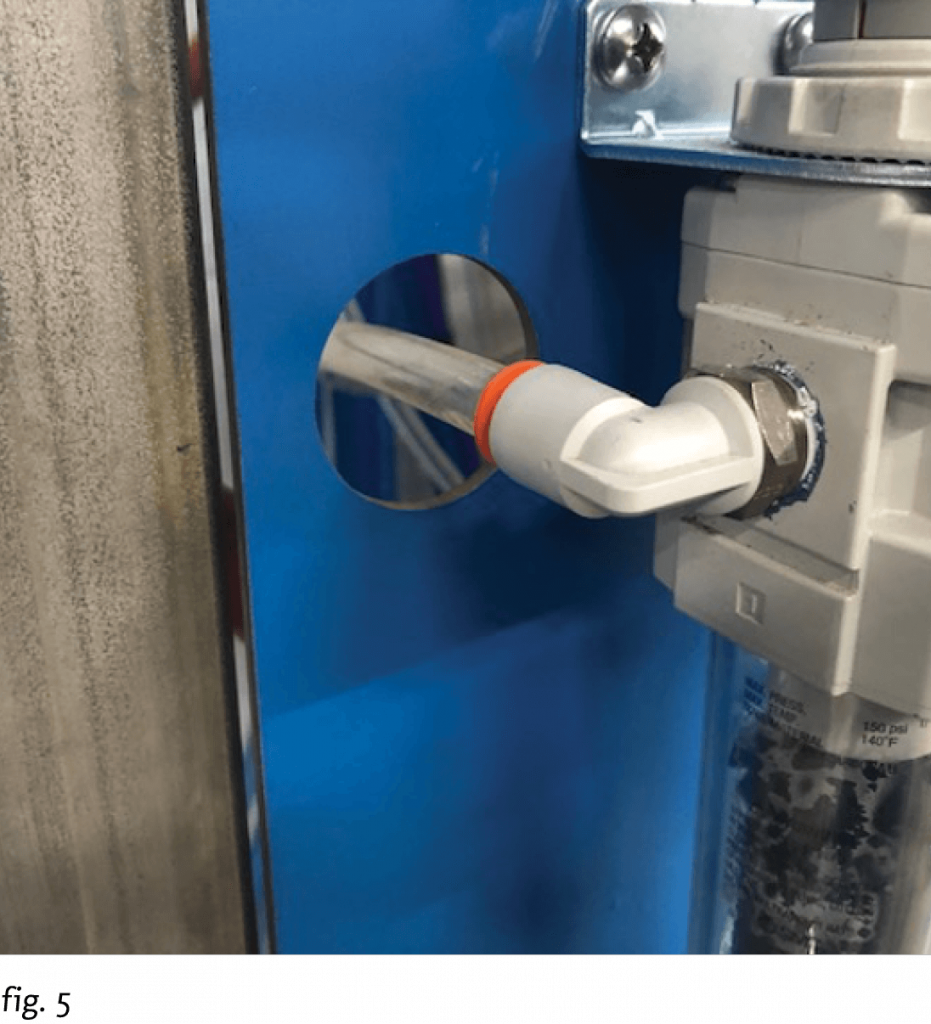 Electrical Connection – WARNING – To Performed by Qualified Electrician Pump #
Be sure the pump voltage matches the voltage that is being supplied to the pump. Check pump sticker (fig. 6)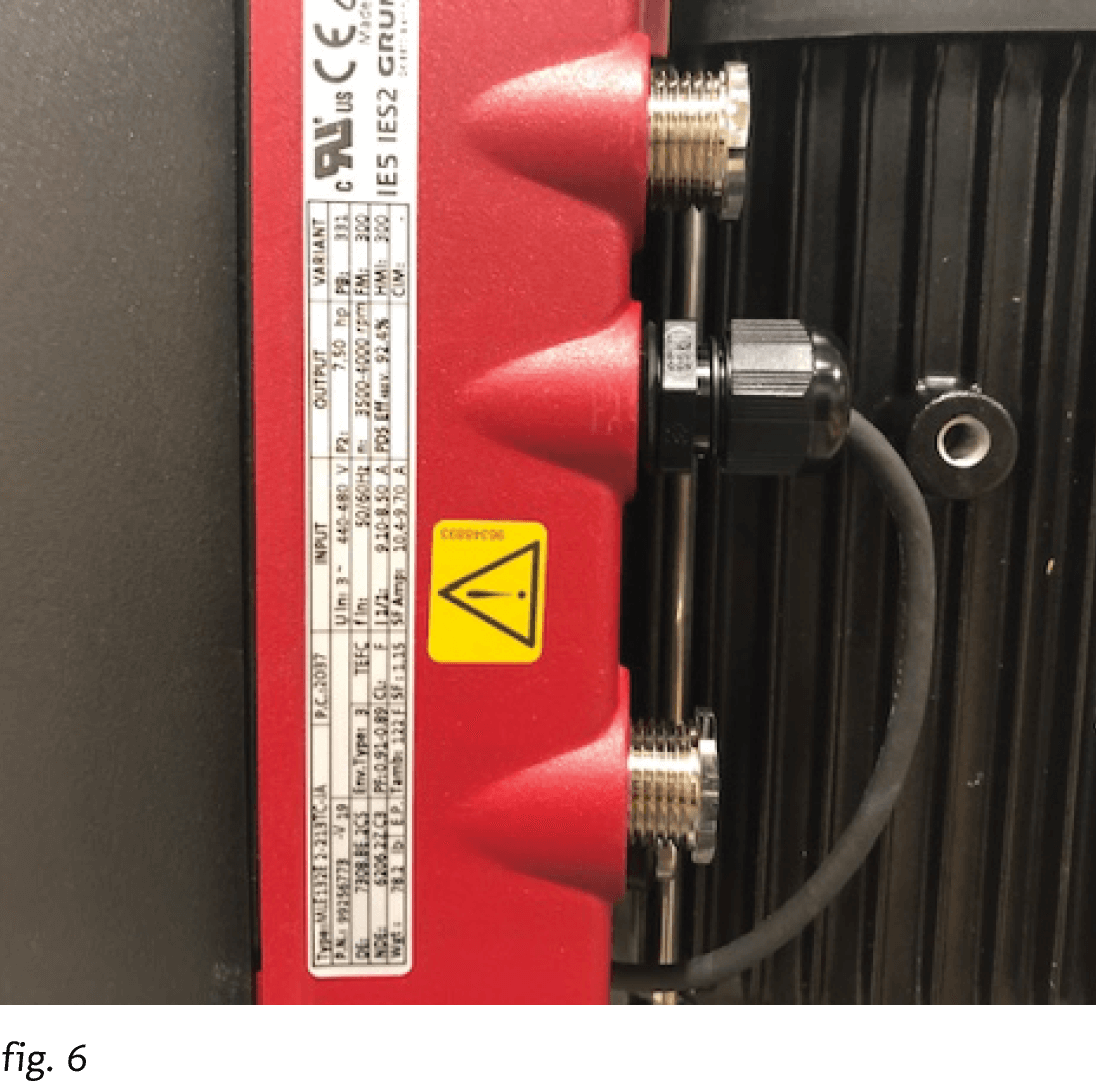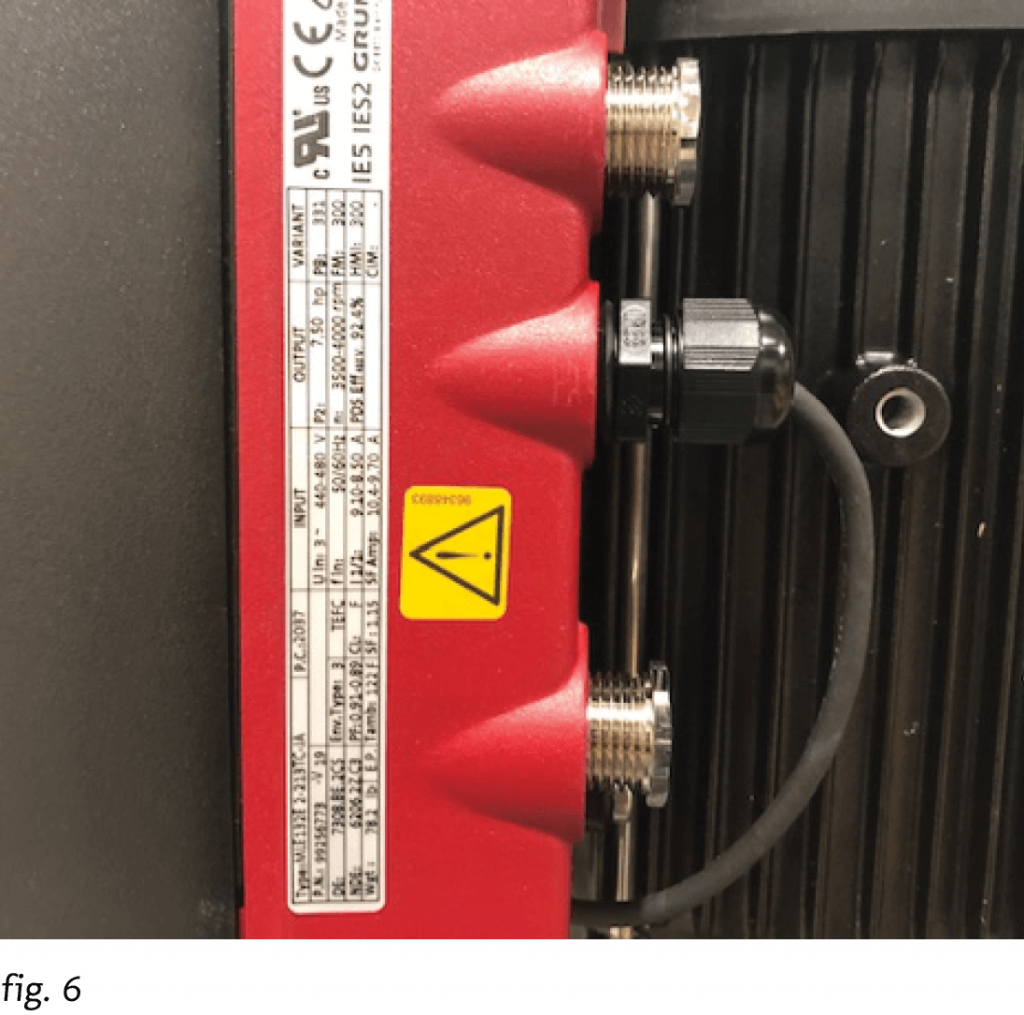 Use the bottom hole of the pump's electrical box for the 3 phase incoming power (fig. 7)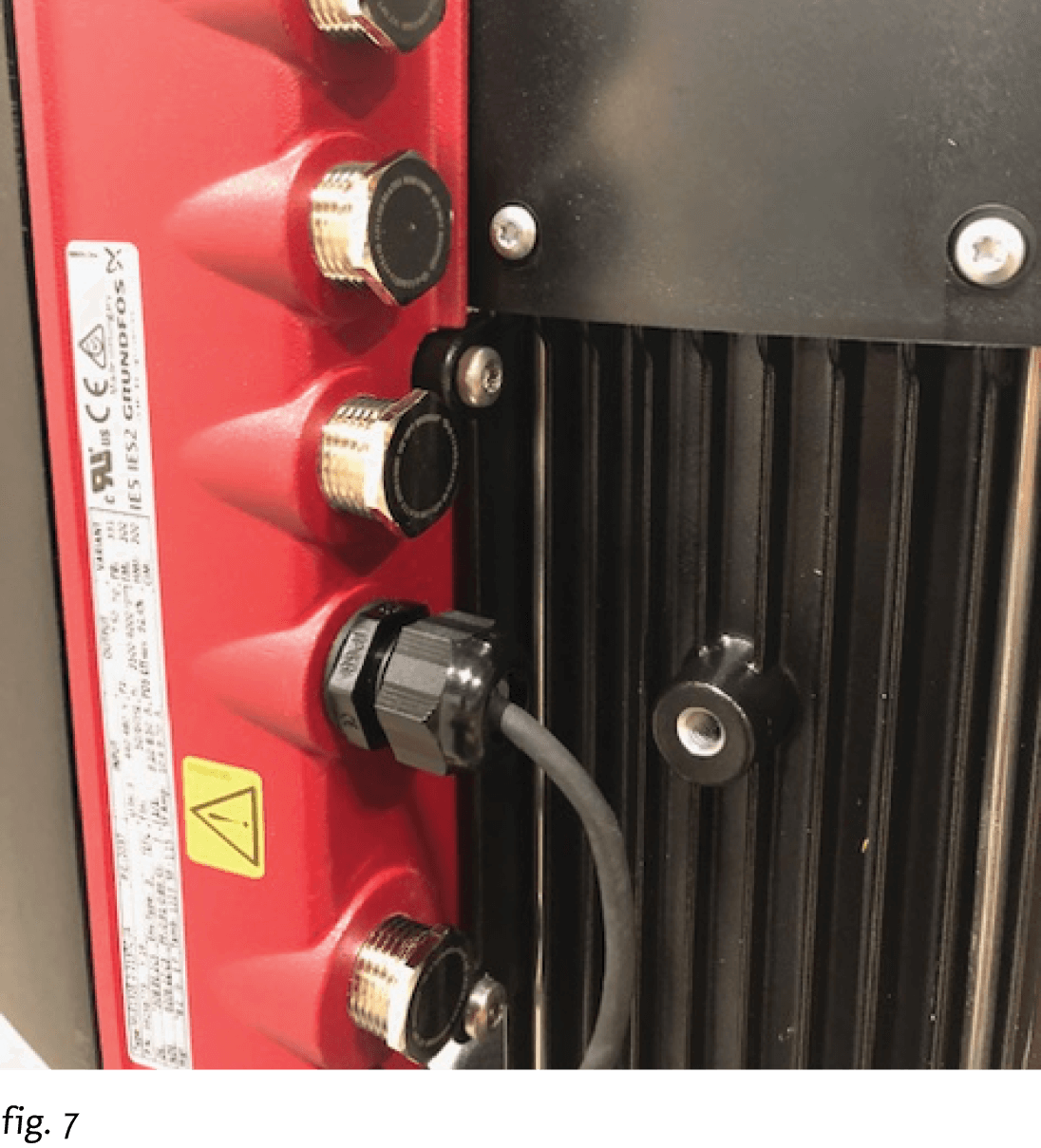 Use the bottom hole of the pump's electrical box for the 3 phase incoming power
Use remaining holes for wire connections
Connect the grounding conductor to the ground lug (fig. 8). Connect the 3ph power to the pump's terminal strip (terminal wiring plug can pull out for wiring ease. Inspect to ensure the terminal plug is fully seated.
On the wall-mounted dispenseIT connect the "run signal" wires from the control box to the pump

Control box terminal strip #PTS1 and PTS2 (fig. 9)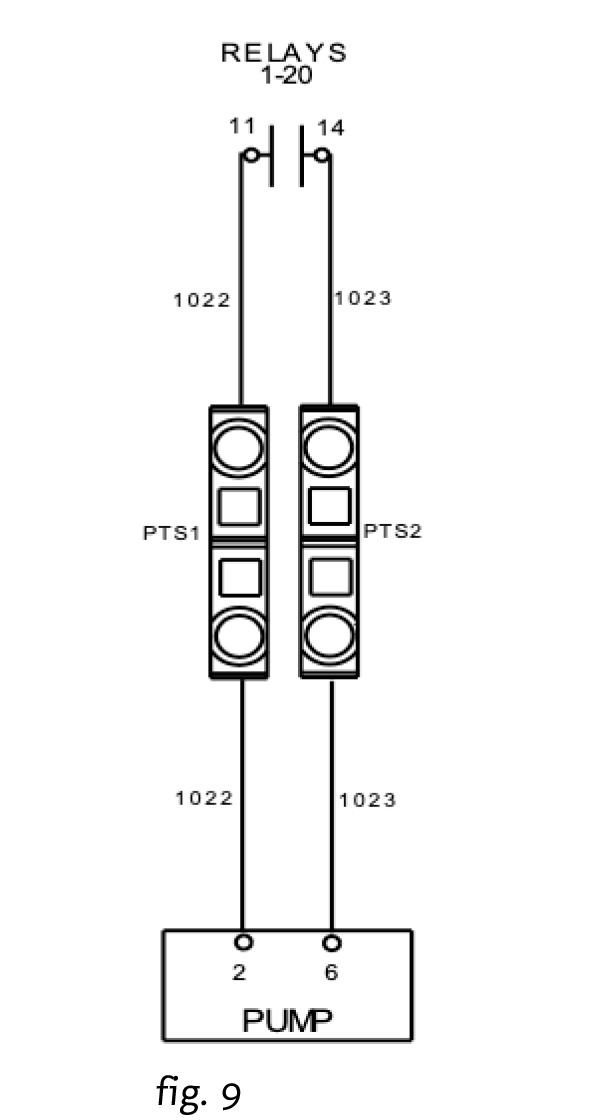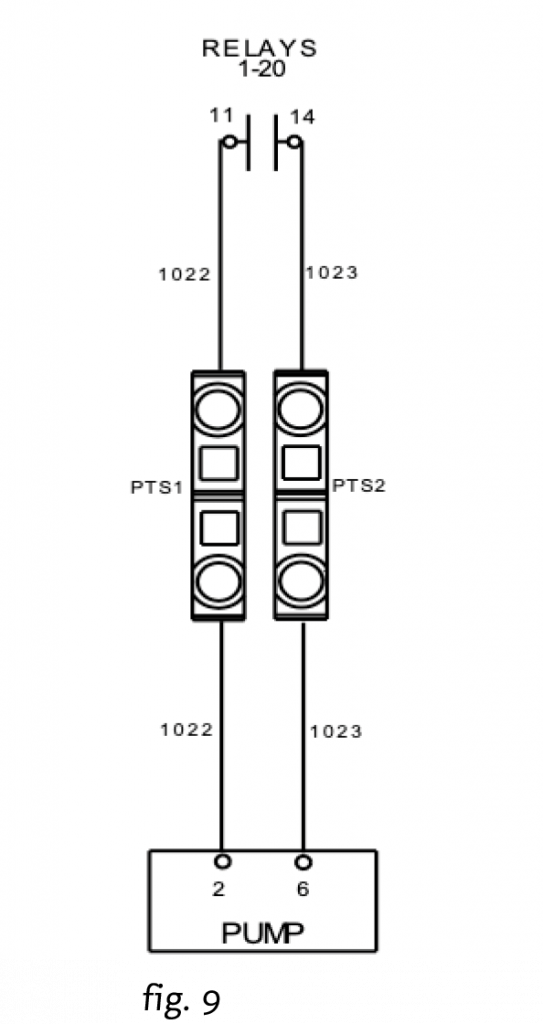 Pump terminal strip #2 and #6 (fig. 10)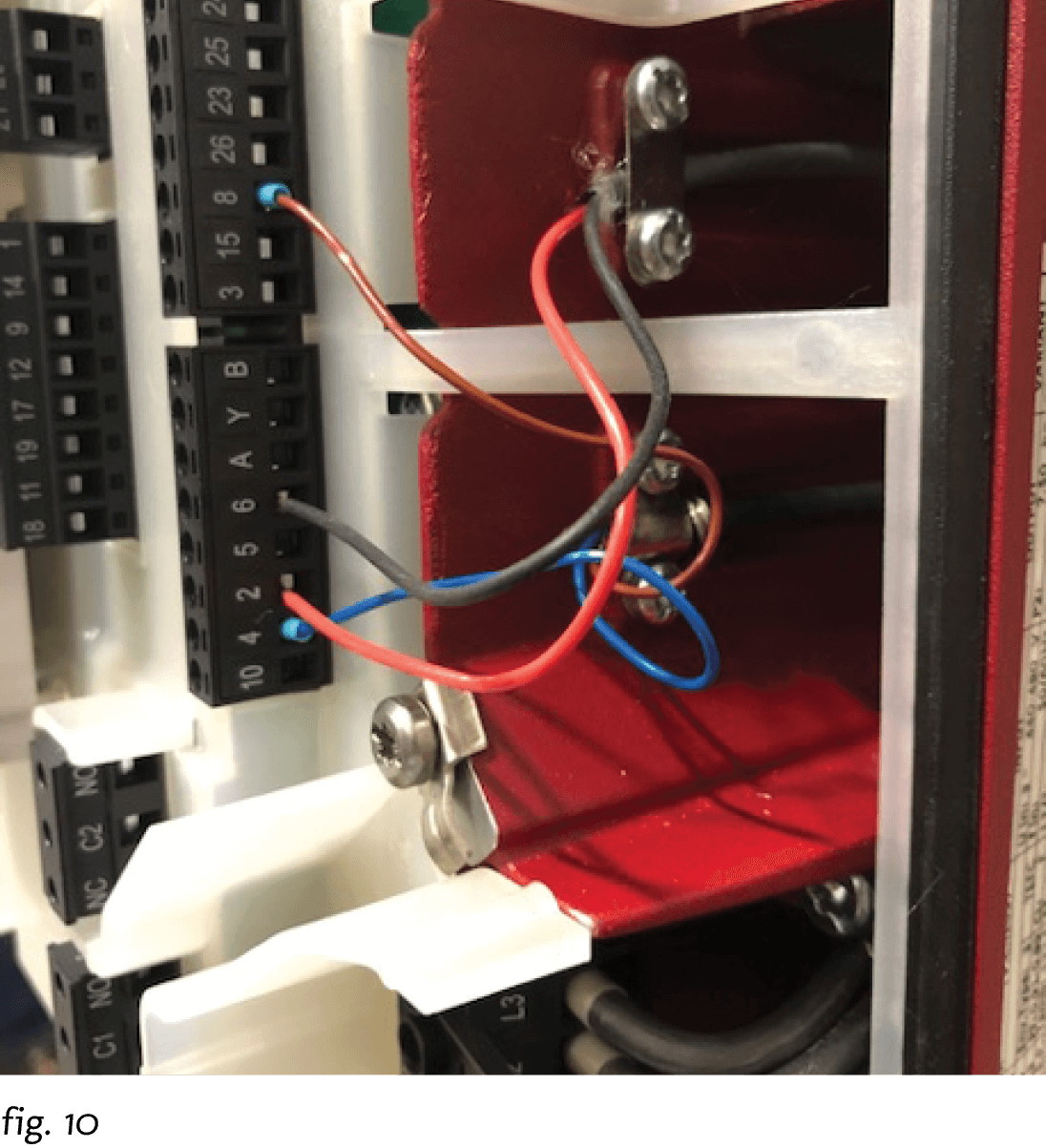 This is a dry contact and the two wires are interchangeable
Electrical Connections Controls #
Control wiring connections for your tunnel controller: Please consult the provider of your tunnel controller for installation instructions for the terminations
Control wiring connections on the dispenseIT system

Connect (1) "hot" conductor from the tunnel controller to each function in the control box on the terminal strip

Working from left to right

TS 1-15 for ports 1-15 on 15 function  (fig. 11.1)
TS 1-20 for ports 1-20 on 20 function (fig. 11.2)
TS #'S are the "hot" signal wire from the tunnel controller

Connect (1) neutral/ common conductor for the system in the "NEUT" terminal strip

NTS #'s are the "neutral/ common" wire from the tunnel controller (fig. 11.3)

Connect (1) ground conductor to the green grounding terminal strip
There is one spare hole in each function's terminal strip for the control wire from your tunnel controller

It will be the second hole down from the top on the terminal strip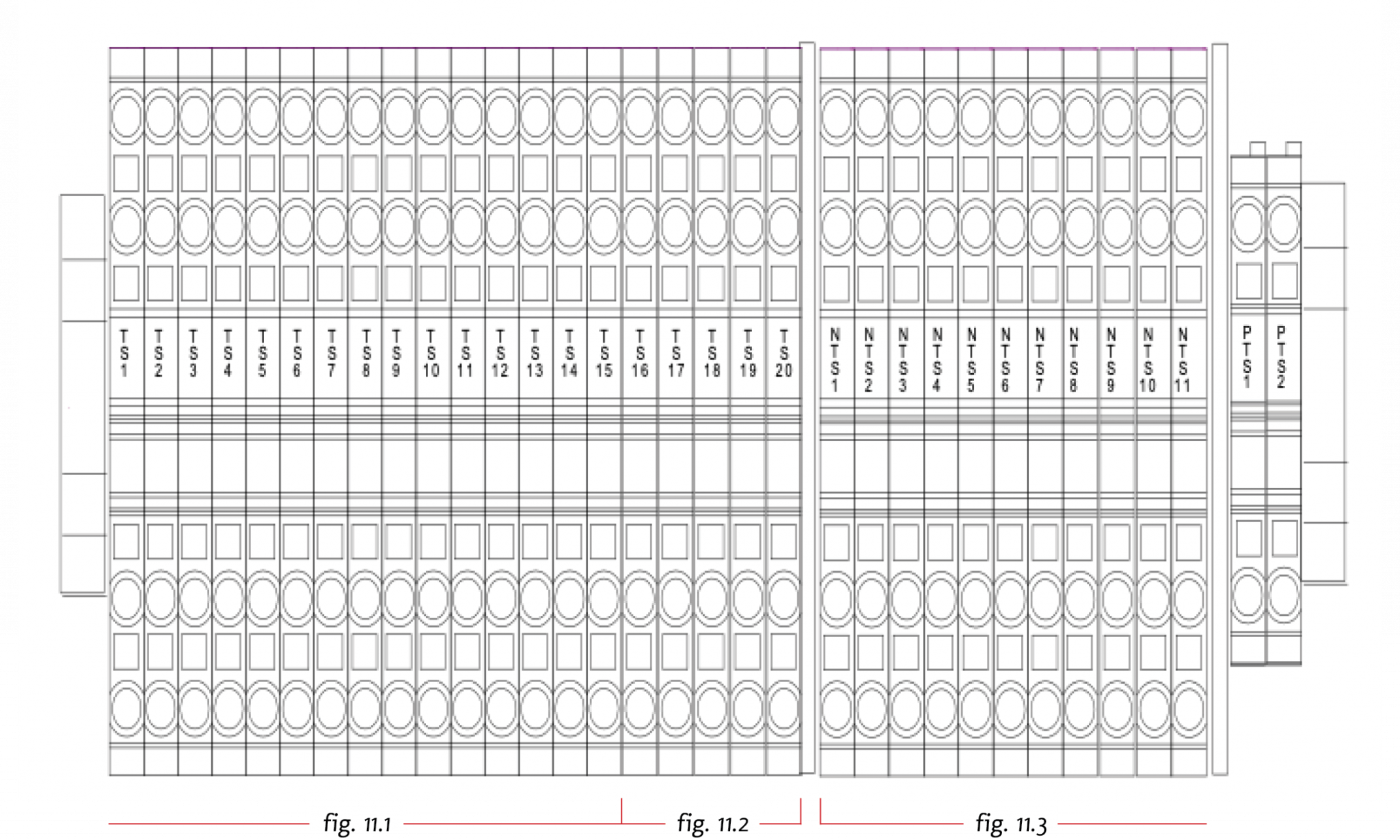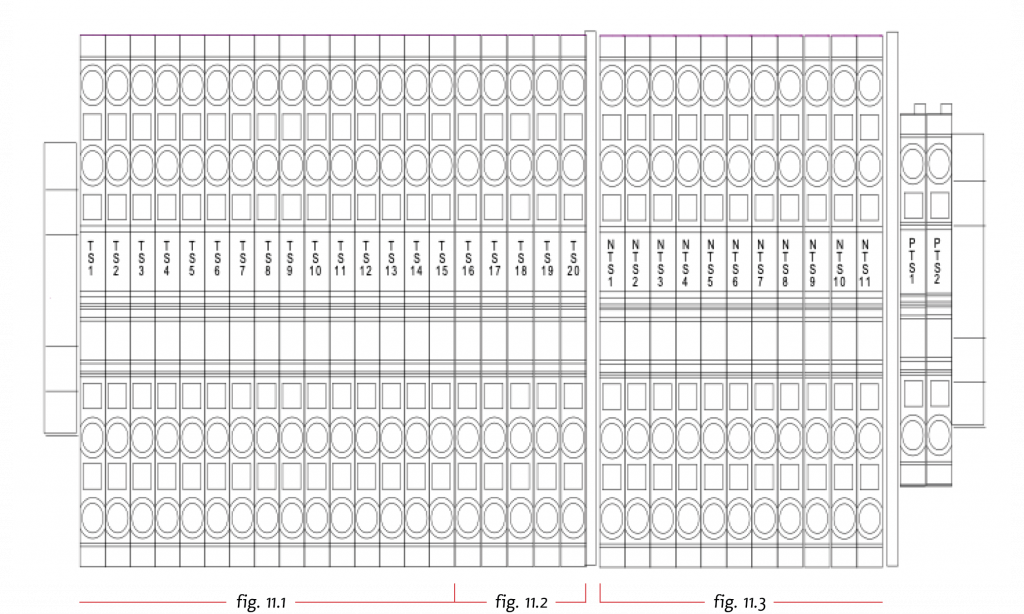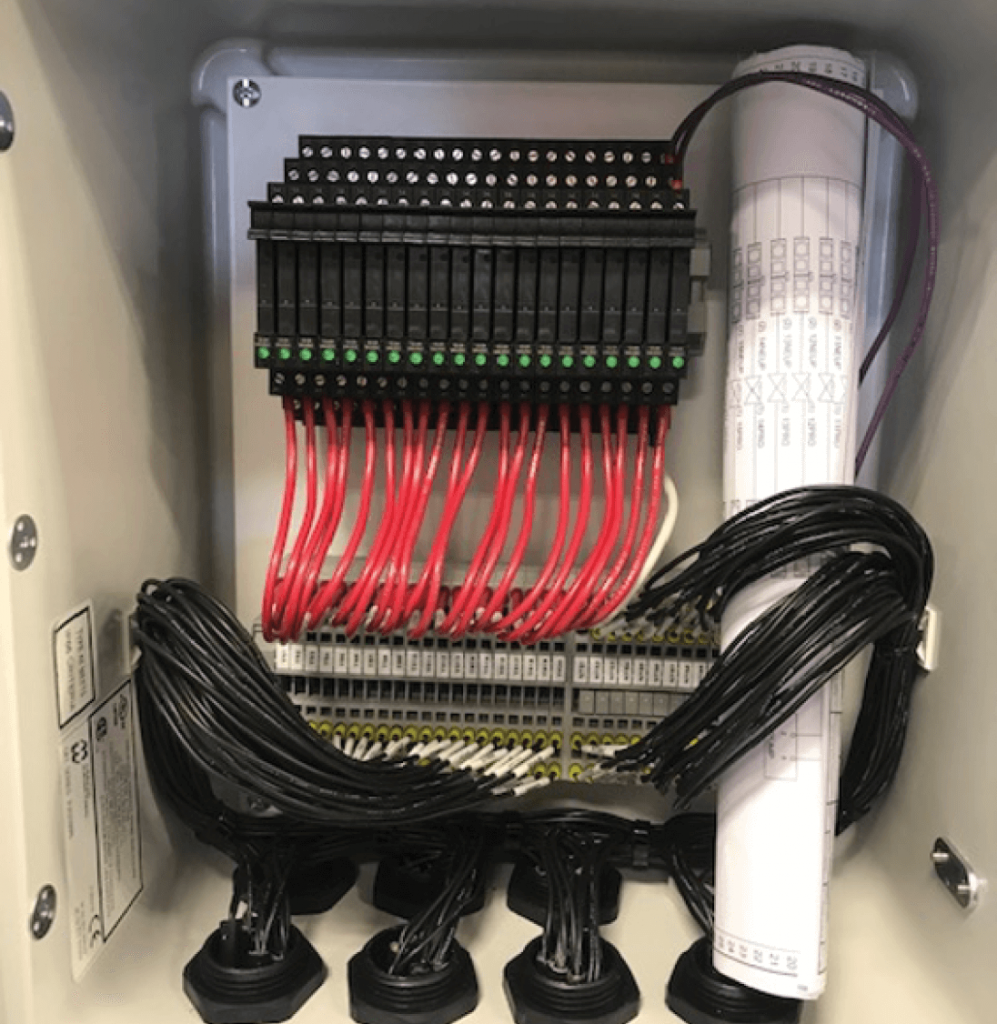 Liquid Connections for Functions #
Connect ½" liquid lines to the appropriate injector port as specified in your customer configuration form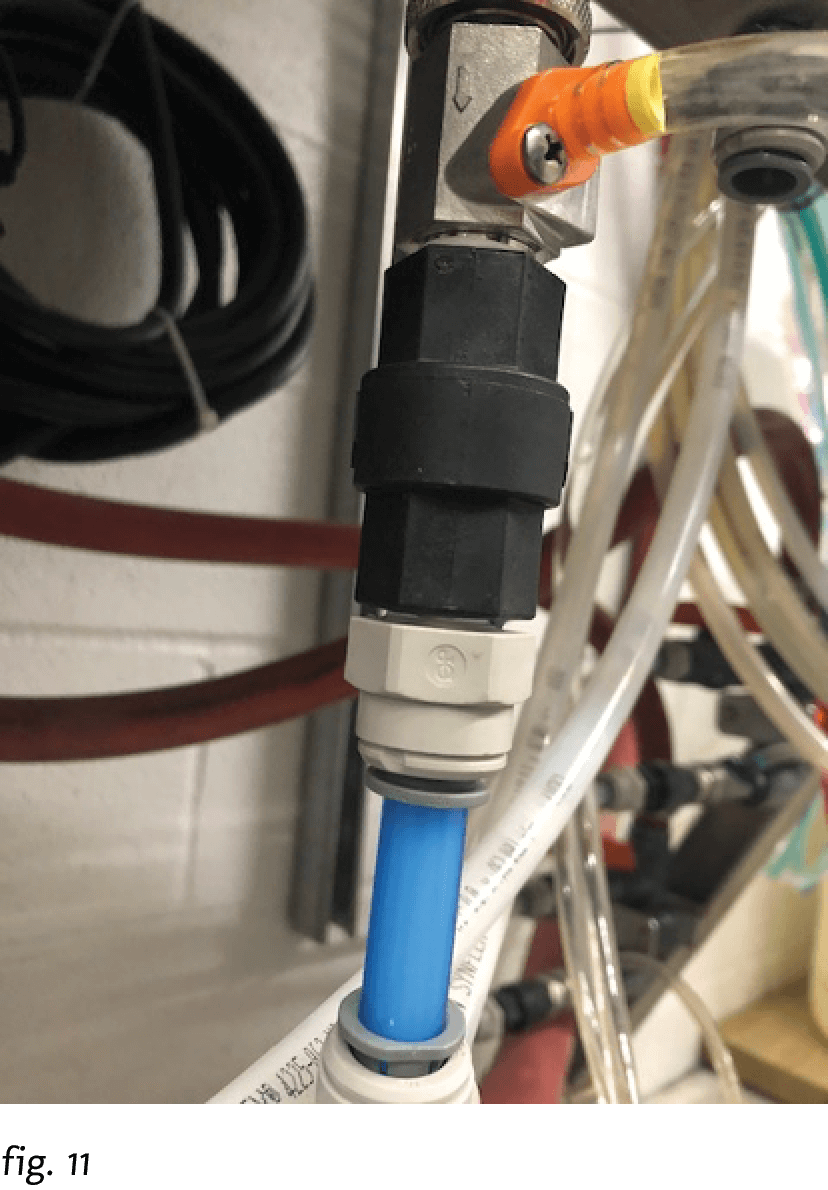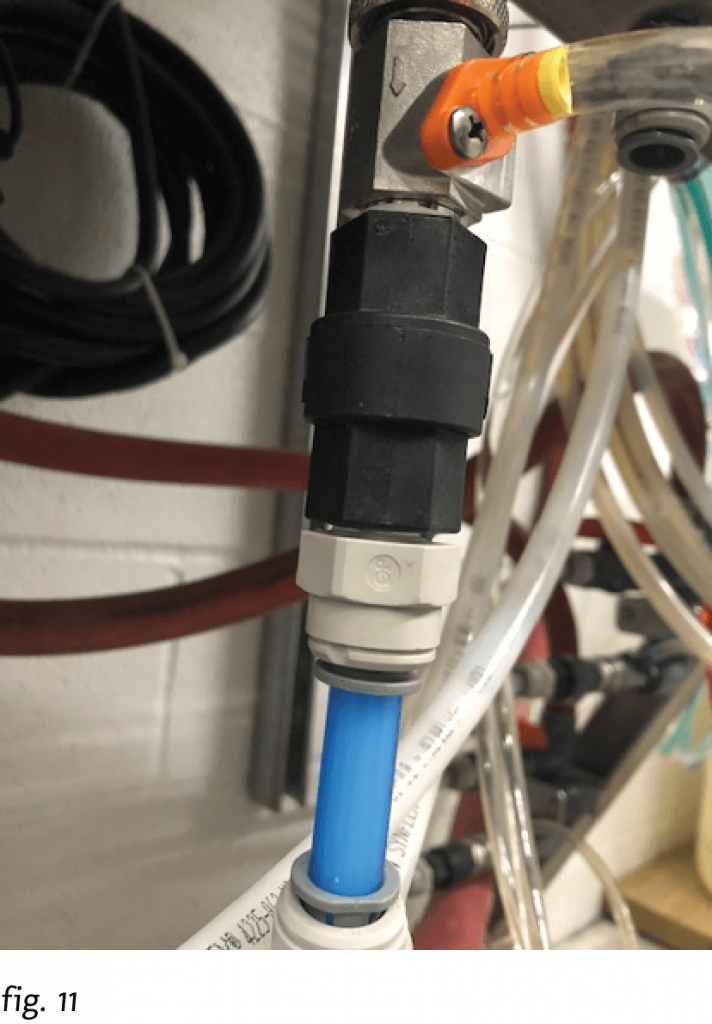 Air Connections for Functions #
Connector 3/8" poly tube airlines to the appropriate port on top of the system as specified on the customer configuration form
Functions are identified 1-15 or 1-20 from left to right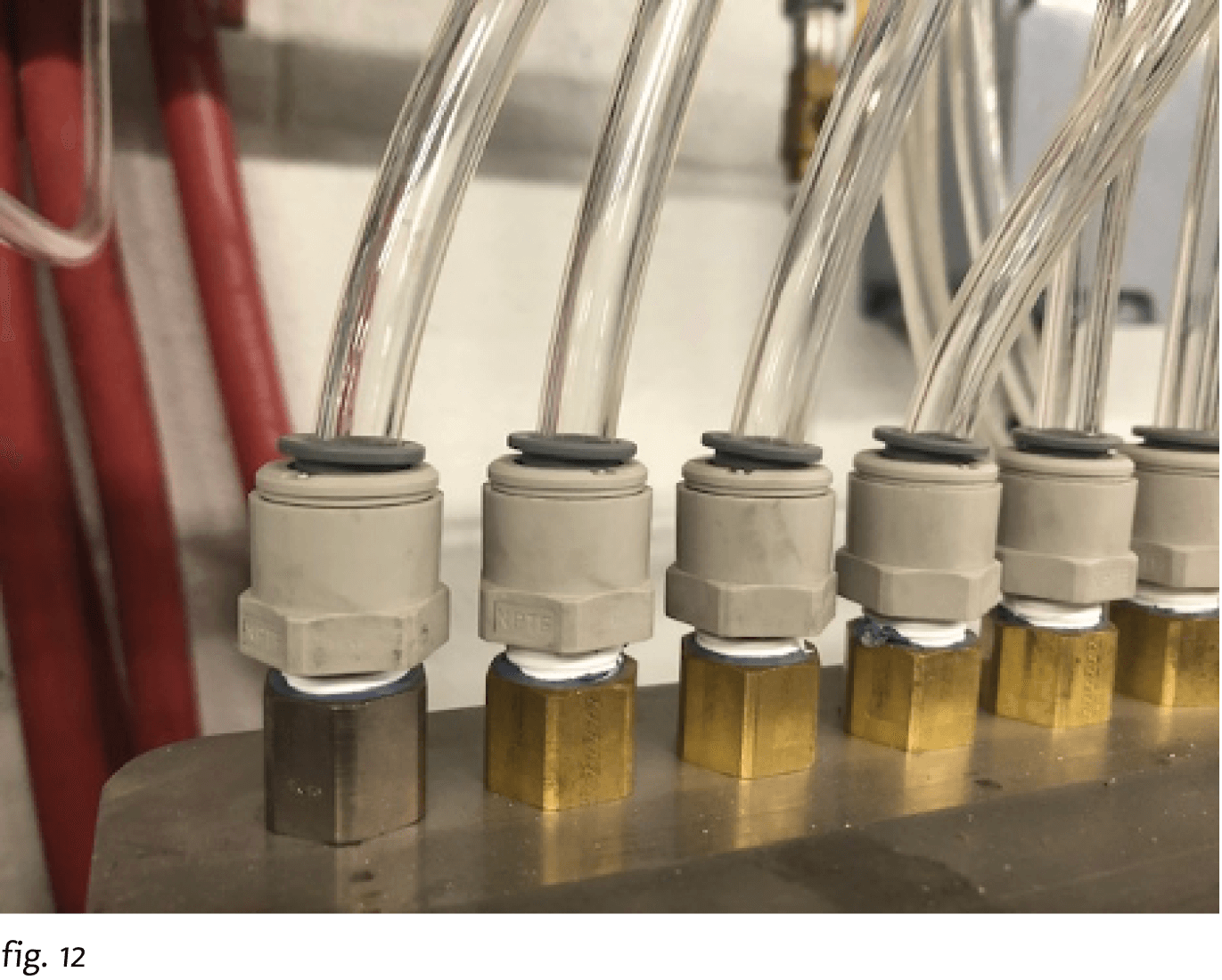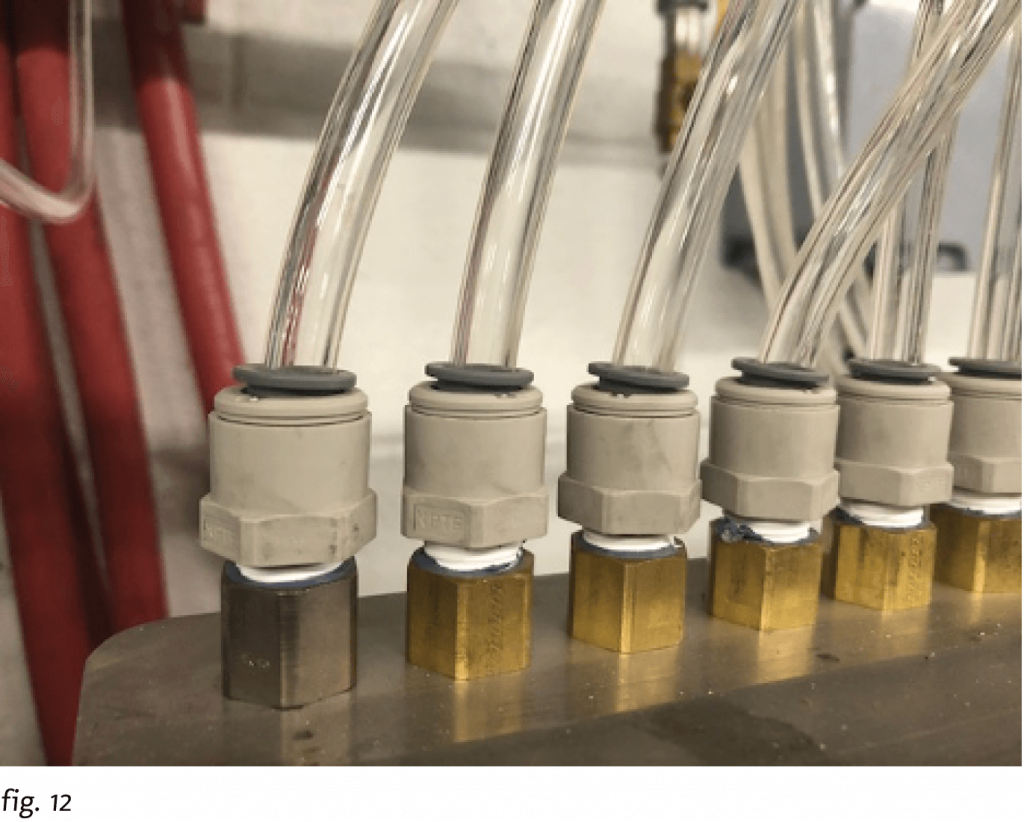 Leak Check – Water & Air #
Turn on water and line supplies and check for leaks